Champions From Every Corner of Canada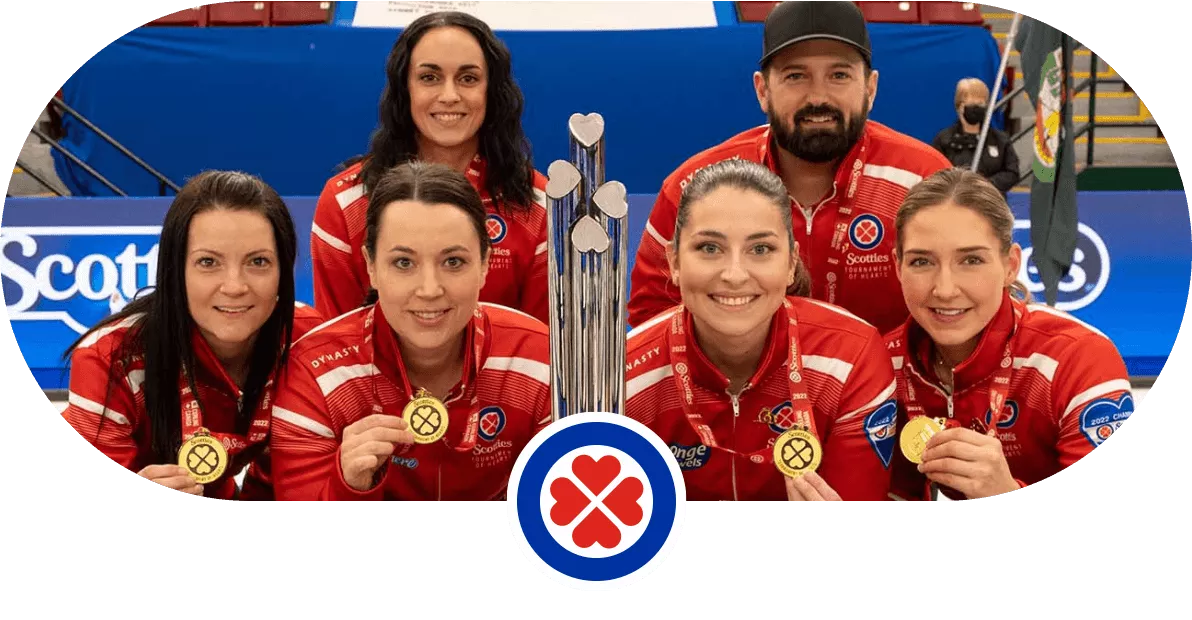 2022 Champions
Team Kerri Einarson
Canada
Kerri Einarson
Val Sweeting
Shannon Birchard
Briane Meilleur
2022: Canada
Kerri Einarson, Val Sweeting, Shannon Birchard, Briane Meilleur
2021: Canada
Kerri Einarson, Val Sweeting, Shannon Birchard, Briane Meilleur
2020: Manitoba
Kerri Einarson, Val Sweeting, Shannon Birchard, Briane Meilleur
2019: Calgary
Chelsea Carey, Sarah Wilkes, Dana Ferguson, Rachel Brown
2018: Penticton
Jennifer Jones, Shannon Birchard,Jill Officer,Dawn McEwen
2017: St. Catharines
Rachel Roman, Emma Miskew, Joanne Courtney, Lisa Weagle
2016: Grand Prairie
Chelsea Carey, Amy Nixon, Jocelyn Peterman, Laine Peters
2015: Moose Jaw
Jennifer Jones, Kaitlyn Lawes, Jill Officer, Dawn McEwen
2014: Montréal
Rachel Homan, Emma Miskew, Alison Kreviazuk, Lisa Weagle
2013: Kingston
Rachel Homan, Emma Miskew, Alison Kreviazuk, Lisa Weagle
2012: Red Deer
Heather Nedohin, Beth Iskiw, Jessica Mair, Laine Peters
2011: Charlottetown
Amber Holland, Kim Schneider, Tammy Schneider, Heather Kalenchuk
2010: Sault Ste. Marie
Jennifer Jones, Cathy Overton-Clapham, Jill Officer, Dawn Askin
2009: Victoria
Jennifer Jones, Cathy Overton-Clapham, Jill Officer, Dawn Askin
2008: Regina
Jennifer Jones, Cathy Overton-Clapham, Jill Officer, Dawn Askin
2007: Lethbridge
Kelly Scott, Jeanna Schraeder, Sasha Carter, Renee Simons
2006: London
Kelly Scott, Jeanna Schraeder, Sasha Carter, Renee Simons
2005: St. John's
Jennifer Jones, Cathy Overton-Clapham, Jill Officer, Cathy Gauthier
2004: Red Deer
Colleen Jones, Kim Kelly, Mary-Anne Arsenault, Nancy Delahunt
2003: Kitchener-Waterloo
Colleen Jones, Kim Kelly, Mary-Anne Arsenault, Nancy Delahunt
2002: Brandon
Colleen Jones, Kim Kelly, Mary-Anne Arsenault, Nancy Delahunt
2001: Sudbury
Colleen Jones, Kim Kelly, Mary-Anne Arsenault, Nancy Delahunt
2000: Prince George
Kelley Law, Julie Skinner, Georgina Wheatcroft, Diane Nelson
1999: Charlottetown
Colleen Jones, Kim Kelly, Mary-Anne Waye, Nancy Delahunt
1998: Regina
Cathy Borst, Heather Godberson, Brenda Bohmer, Kate Horne
1997: Vancouver
Sandra Schmirler, Jan Betker, Joan McCusker, Marcia Gudereit
1996: Thunder Bay
Marilyn Bodogh, Kim Gellard, Corie Beveridge, Jane Hooper Perroud
1995: Calgary
Connie Laliberte, Cathy Overton, Cathy Gauthier, Janet Arnott
1994: Kitchener-Waterloo
Sandra Peterson, Jan Betker, Joan McCusker, Marcia Gudereit
1993: Brandon
Sandra Peterson, Jan Betker, Joan McCusker, Marcia Gudereit
1992: Halifax
Connie Laliberte, Laurie Allen, Cathy Gauthier, Janet Arnott
1991: Saskatoon
Julie Sutton, Jodie Sutton, Melissa Soligo, Karri Willms
1990: Ottawa
Alison Goring, Kristin Turcotte, Andrea Lawes, Cheryl McPherson
1989: Kelowna
Heather Houston, Lorraine Lang, Diane Adams, Tracy Kennedy
1988: Fredericton
Heather Houston, Lorraine Lang, Diane Adams, Tracy Kennedy
1987: Lethbridge
Pat Sanders, Louise Herlinveaux, Georgina Hawkes, Deb Massullo
1986: London
Marilyn Darte, Kathy McEdwards, Chris Jurgenson, Jan Augustyn
1985: Winnipeg
Linda Moore, Lindsay Sparkes, Debbie Jones, Laurie Carney
1984: Charlottetown
Connie Laliberte, Chris More, Corinne Peters, Janet Arnott
1983: Prince George
Penny LaRocque, Sharon Horne, Cathy Caudle, Pam Sanford
1982: Regina
Colleen Jones, Kay Smith, Monica Jones, Barbara Jones-Gordon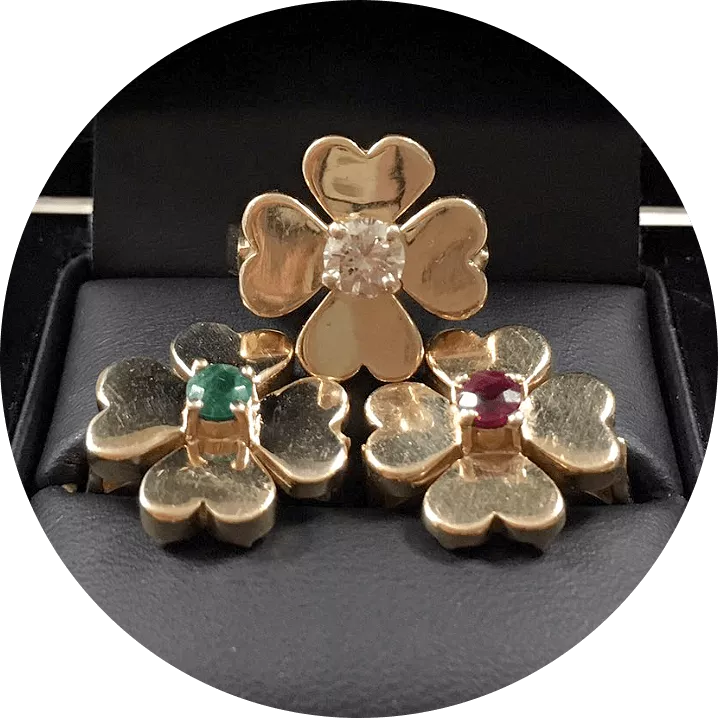 A Well-Earned Honour For Exceptional Women
It takes immense effort, teamwork and perseverance to earn a spot in the championship round of a Scotties Tournament of Hearts.
We honour that milestone by awarding each first-time qualifier with a gold necklace and pendant shaped like four hearts which represent the Scotties signature logo. The next four times a curler gets to the nationals, we add a diamond to the pendant. Six-time provincial champions are also given a tennis bracelet that we continue to fill with diamonds in tribute to this outstanding achievement.
The Scotties Tournament of Hearts logo is four clustered hearts representing the four curlers comprising a team. The hearts also symbolize the "spirit" of curling and the bond of sisterhood shared by all who play the sport.